IRS Environmental: Clean, Safe and On Time!
Scientific evidence indicates that indoor air pollution may be more hazardous to our health than outdoor pollution.
When you add up home, work, school, and other activities, many people spend approximately 90% of their time in buildings, so safe indoor air quality is important to the health of us all.
We now know that exposure to asbestos, lead paint, and mold can all contribute to health and air quality concerns.
Asbestos was used extensively in construction materials from 1930 through the mid 1970's, until the government started regulating asbestos use in the U.S. Lead paint was used on houses and commercial buildings from the 1940's through 1978, when the U.S. Consumer Product Safety Commission lowered the legal lead content on houses to 0.06%, a trace amount.
Heavily leaded paint was used on structural steel on bridges and commercial buildings. It can produce high exposure levels when disturbed by burning, sanding, or grinding.
Mold can grow in any building, old or new, anywhere there is an on-going moisture problem.
These hazardous products can create problems while intact, but removing them can be even more hazardous if you don't know what you're doing.
So if faced with the possibility of toxic materials in your home, school, or building, what should you do?
Call in the experts!
IRS Environmental is a full-service Remediation and Construction Company with over 25 years of experience in asbestos removal, lead paint, mold remediation, PCB removal, and soft demolition.
IRS Environmental of Portland, Inc., your Insulation Removal Specialists, was established in 1982 by William E. Korum. From the very beginning, IRS Environmental has been dedicated to quality, integrity, and service.
Home owners trust us to keep their families safe while we work on their homes. Building owners and managers know that they can count on us for quality work at fair and competitive pricing.
General contractors rely on us for our highly trained staff and our ability to keep renovation and remodeling schedules on time with minimum interruption. We take pride in our work, and it shows.
As certified licensed asbestos and lead specialists, we manage all projects with the protection of the environment, employees, and tenants in mind. We work with Certified Industrial Hygienists to see that your problem is taken care of properly and safely.
We are licensed to safely remove and dispose of PCB and mercury lighting.
IRS Environmental carries $5,000,000 in liability insurance, while most firms only carry $500,000 to $2,000,000.
Certified supervisors and workers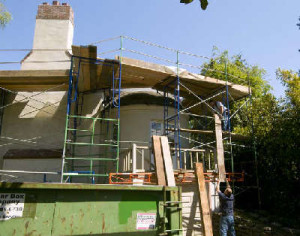 IRS Environmental provides EPA/AHERA Certified Supervisors and workers for asbestos abatement projects.
Our project list includes School Districts, Housing Authorities, Universities, High tech companies, and various counties. We have above-average safety record and will gladly provide you with references.
We have worked with a variety of owners and contractors, and are licensed in Oregon and Washington.
IRS Environmental performs all work at or above E.P.A. and local agency regulations. We offer a 24-hour emergency response.
Have questions? You can fill out our convenient on-line contact sheet 24/7, or call us at 503-693-6388, Monday through Friday, from 8:00 am – 4:30 pm. We are here to help you.